I recently was watching YouTube videos on Harry Potter and I got the idea for this post. When the films came out, I saw every single one in cinemas. I adored the movies. But when I read the books, I fell in love with the world even more. It has been years since I last read the Harry Potter books. I remember certain differences between the films and books, but I didn't realize how much was left or changed for the sake of film-making. Certain info on the book series I rediscovered through a YouTube channel, called MovieFlame. His channel discuss the series by going through key details that were missed or left out of the films entirely, such as character arcs, backstories etc. You should go check out his channel. This is the video that inspired me to write this post:
I always read the books before I watch the films, but the Harry Potter series was an exception. I hated reading when I was young. I would always avoid reading assignments in school and watch the films instead. But when I read Harry Potter for the first time, it solidified my love for reading. It is interesting to compare both the books and the films and that is what I am going to discuss today. The first thing to look at is:
Change in Characters
Overall, the characters in the films were vibrant and engaging, just like their counterparts in the books. However, there were some characters who were badly represented in the films or some were dumbed down to bring other characters up. Three characters that come to mind for me are:
Ginny Weasley 
For Ginny, I completely forgot what she was like in the books. The Ginny I knew was the one in the films and in that regard, I had so many questions about her character. She was portrayed as Harry's number one fangirl and the only girl amongst the Weasley siblings. One of my friends told me that one of their favourite characters was Ginny and that they hated how the films portrayed her. I couldn't remember what she was like so I watched a YouTube video, going through the life of Ginny Weasley.
In the books, she was fierce, intelligent and a very skilled Quidditch player. At the beginning of the series, she was Harry's fangirl. The films got that right, but they never delved into Ginny's true character. The youngest of a big family and the only girl, Ginny had to fight her own battles at a young age, especially when she had brothers like Fred and George. She taught herself Quidditch at a very young age, by stealing her brothers brooms at night. She got so good, she took over for Harry as Gryffindor's seeker, and even won a few matches.
She was very loyal to her friends, such as standing up for Harry against Draco, defending Luna against school bullies and stood by Harry's side when the world called him a liar. In the films, the relationship between Ginny and Harry was never explained. As a movie goer, Harry started liking Ginny out of the blue. Before the Half Blood Prince, Ginny was Ron's younger sister and a fangirl. All of the sudden, he likes Ginny. There was no progression or sign in the films that Harry started liking Ginny. Whereas in the books. J.K Rowling started developing their relationship since the 4th or 5th book.
Harry started pushing people away, when he felt Voldemorts control on him in the 5th book. Ginny was the one who told him, he was being an idiot and that he should have talked to her about Voldemort's control since she was possessed by him in Year Two.
"I forgot" Harry said.
"Lucky you."
Ginny became more out-spoken with Harry, unlike what she was in the films. She showed off her skills in Quidditch, and her fierce personality, such as when Ron shouted at her for kissing Dean in public. Ginny retorted and said, Ron was just jealous because he has as much experience as a 12 year old when it comes to kissing. And when Ron kissed Lavender in the Gryffindor common room, Ginny came up to him and said "Youre a bloody hypocrite."
Moments like this were excluded from the film and her character suffered due to these changes. She was reduced to a love interest to the main character.
Ron Weasley
Ron is a great character in the books and films. However, on closer inspection, youll notice one thing about Ron. In the films, he seems to be a complete bumbling idiot. He is what you call the comic relief. I have seen videos on the internet, asking the question: did Ron need to be there? Was he necessary to the story or was he just a tool? In the film, he cracks jokes and acts as that character who will liven up a scene when it gets too serious. He is not as skilled of a wizard as Harry or as intelligent as Hermione. So what is he doing there? The one thing the films failed to show more of, is Ron's loyalty.
Ron will do anything for her friends. Scenes that showcased this in the books, never made it into the movies. An example of this would be the scene in the Shrieking Shack in the Prisoner of Azkaban. In the film, Hermione stands in front of Harry and says to Sirius Black, "If you want to kill Harry, youll have to kill us too".
In the book, it was Ron who said this. He stood up on his broken leg and bravely faced Sirius Black. Moreover, it is more apparent in the books, that Ron is essential to the trio. Without Ron, Harry and Hermione would be lost. Ron is the glue that keeps the group together as shown in the Prisoner of Azkaban and the Deathly Hallows, when the trio was broken up. His bravely and loyalty were put on the back burner in the films and they made him more of the funny, idiotic character amongst stronger characters.
Luna Lovegood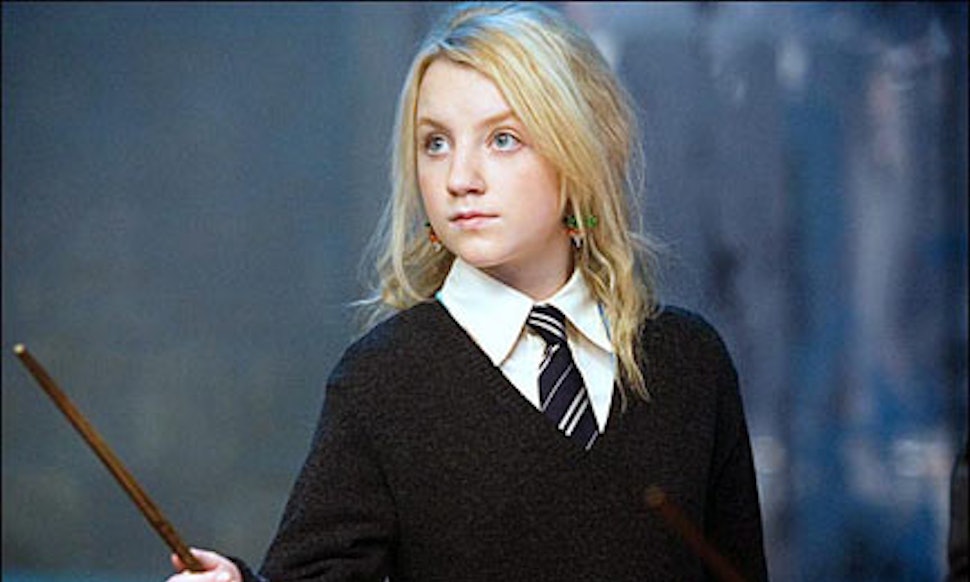 For Luna, she was very much the same in the film as she was in the books. However, the films showed more of her quirky side. When I first saw her in the Order of the Phoenix, she was a very odd character to me and I didn't know if I liked her or not. My mother loved her instantly. But when I re-read the books again, I realised how much of an inspiration she was, which I felt the films didn't capture well enough.
She was quirky and bubbly. She knew who she was and that is an amazing trait to have. She had this sweet innocence that no bully or force of evil could take away from her. In the books, Luna was bullied severely for her unique personality. Students stole her shoes which forced her, to walk around barefoot. Luna would put it down to nargles. She believed in a world that might have been false but it was real to her.
She was a bright student and an amazing witch. She may have attracted some hate, but she also found loyal friends in Harry, Ron, Hermione, Ginny and Neville. Friendship was a huge thing for Luna. When she found her friends through Dumbledore's Army, she remained loyal to them. After the events of the 5th book, Luna became closer to Harry and the others. She even had paintings of them on her bedroom ceiling with gold engravings around them, saying in Latin, "Friendship."
She was kind person, even with the people who made fun of her. When the trio used to make fun of her, she stayed kind. Even when Hermione and Ron made fun of her father's magazine and Harry disregarded her, she still helped Ron with his owl off the Hogwarts Express. When the wizarding world turned against Harry, she came up to him and said " I believe He Who Must Not Be Named is back and I believe you fought him and escaped from him."
I have a new found respect for Luna's character. Even when everyone hated on her and bullied her, she stayed true to herself and found true friends out of it. She was a shining beacon of light in the books and the films didn't portray that enough.
Story alterations
I understand when it comes to adapting a book into a movie, things have to change or be left out. But there were some things in the books that I wished were in the movies. Examples are:
Peter Pettigrews death
Death, yes. Im pretty sure he didn't die in the movie. He just got stunned.
The beginning of this clip shows what I mean. In the book, Peter Pettigrew was killed by the silver hand that Voldemort gifted him in the Goblet of Fire. The last time Harry and Peter saw each other, Harry saved him from being killed by Sirius Black and Remus Lupin. So Peter owes Harry his life. And Harry cashes in on that favour in Malfoy Manor, by asking him to help them escape. Peter's hesitation showed an act of betrayal and the silver hand murdered him for it. It was a good scene, a nice wrap up to the Peter Pettigrew's story. But it was reduced to being stunned by Dobby the elf.
I mean why??
Tonks and Lupin's pregnancy
The fact that Tonks was pregnant throughout the final book, was never mentioned in the films. Instead, they had Moody interrupt their announcement to Harry in the 7 Potters scene.
Moreover, we never heard or saw their child after the Battle of Hogwarts in the films. Moreover, one of my favourite scenes from the last book was the fight between Harry and Lupin in Grimmauld Place. Lupin had just left Tonks who was pregnant at the time, using the excuse that he had to go help Harry. But Harry saw right through it, and gave out to Lupin for abandoning his wife at this important time. This scene showed Lupin at his weakest point, thinking he put his wife at a disadvantage, by having a child with a werewolf. He thought she would be better off without him. Also this scene showed Harry not taking his shit and told him to go home. Hermione may have been mad at him for that, but I agreed with Harry.
Character Arcs never fulfilled
Petunia and Dudley Dursley – They originally had scenes filmed with Harry and the Dursleys before they parted ways. It redeemed Petunia, who we assumed hated her sister, Lily. The truth was she grieved for her sister and missed her. Dudley was redeemed when he said to Harry, "I dont think you are a waste of space." We never got the closure from the Dursleys in the final version of the movie.
Draco – He had a redemption scene that was deleted, where he threw a wand to Harry to help him fight against Voldemort. That small detail was replaced by the awkward hug between Draco and Voldemort.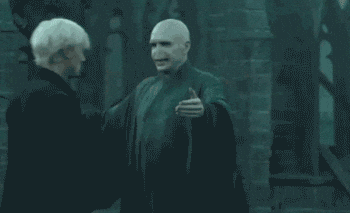 We didn't need this. Or the Ginny and Harry scene at the Burrow.
Why, Warner Brothers?
Percy's betrayal
The films never touched upon Percy taking the side of the Ministry of Magic, when they called Harry a liar. It caused a rift within the Weasley family, which showed that this family can have cracks in their foundation. I despised Percy for that period of time. He was so ignorant and blindly followed the Ministry. It is all, but removed from the films entirely. Percy was just reduced to a tour guide for the Hogwarts castle.
Bill and Fleur
Yes, this couple. They never got much screen time in the films. Bill didn't appear until the final film, and Fleur disappeared after the 4th film. There was no build up of their characters or their relationship before we were present at their wedding in Deathly Hallows Part 1.
There was never the awkwardness at the beginning of the relationship, because of Ron, who asked her to the Yule Ball in the 4th book. There was never that funny banter between the family or the trio about Fleur and Bill. They just appeared out of nowhere in the 7 Potters scene in Deathly Hallows and we are supposed to root for them or love them on the spot.
Overall thoughts:
There are so many things I could point out, but well be here all day otherwise. Even though I have been bashing the Harry Potter movies throughout this post, I still adore them. They are amazing on their own, and they were a central part of my childhood. The films got me to the read the books and the rest is history.
But if you compare the films to the books, you know who would get the superior title. That is the case for many books to movie adaptations; the books are always better. The actors did a great job of bringing the characters to life on the big screen, but they had to follow a script given to them and controlled by a studio, who helped create this franchise, and who are still releasing new movies to add to this world (Fantastic Beasts). However, there are other book to movie adaptations that succeeded in following the formula of the novel and creating a carbon copy of the book. Some have even been better than the original source material.
I may talk about that in later posts but for now, that is all I have for today. I hope you enjoyed this post. It has been a long time coming. I have been busy with work lately so I havent been posting much. My last post was on the 2nd of August….that definitely needs to change. Anyway, I hope you enjoyed and I shall talk to you in the next post x