Another post before the end of this week. I got inspired to do this post called "Like a Girl." My friend, Aisling wrote about this in her blog, you should check her out, thisdreamsalive. In recent years, we are seeing more and more strong female characters in novels/films. However, I will always remember the women who inspired me when I was young when being strong or more courageous was too much for a female lead. When the only role a woman played in films and novels was to be the damsel who needed a man to save her. These women from literature and film inspired me and still inspire me to this day to be yourself and not to follow the status quo.
Hermione Granger – Harry Potter series
Hermione Granger from Harry Potter is the first on this list because she is one of the first female heroines who I looked up to at a young age. I was a very good student, loved to learn and loved to write. I got bullied for being very good at school and reading a lot. Harry Potter was the first book series I got into and I related to Hermione as a character. She evolved from the bossy 11 year old into a strong, smart, independent woman. She never dumbed herself down to make anyone like her. She remained true to herself and her strongest attribute was her loyalty to her friends. Her strength and intelligence kept Harry and Ron alive throughout the series. Hermione was my first hero from a book series and Emma Watson did an amazing job at bringing this role model to life in the films.
Katniss Everdeen – The Hunger Games
I have heard a lot of split opinions surrounding Katniss Everdeen as a character. Even though, she is considered one of the best female protagonist from a film and book, people still give her a lot of hate. In my opinion, Katniss was the strong, female protagonist we needed. Due to the society she was brought up in, she was an angry character but she was also intelligent. She knew when was the right time to say something. If it wasn't for her quick thinking in The Hunger Games with the berries, she and Peeta would be dead. She became an unlikely leader due to her lack of care in the politics of her society but her strength in words and action led to the revolution. A character like her are very few and far between in the medium of film and literature. Suzanne Collins did a brilliant job of constructing this character in her novels and Jennifer Lawrence did a fantastic job of bringing her to life on the big screen.
Elizabeth Swann – Pirates of the Caribbean films
I grew up watching Pirates of the Caribbean and I forgot how much of a badass Elizabeth Swann was in those films. I wasn't a big fan of her in The Curse of the Black Pearl due to her being the typical damsel in distress character, who had to be rescued by Will and Jack. However, the end of the first film showed a glimpse of her breaking away from her bourgeois life and into piracy and I ate that up. I loved her in Dead Man's Chest when she picked up her sword and pistol and took part in the adventure. I remember people I knew saying that they didn't like the way she looked in Dead Man's Chest because she looked too manly etc. I loved the way she took control of her own destiny, dropped the norms of her time such as not wearing a corset and staying at home, finding a husband. Moreover, she excelled in the pirates life when she was proclaimed Pirate King in At World's End, the first one in many years. She showed to viewers that women can be badasses too. A woman can pick up a sword and lead an army of men into battle. Still consider her to be an amazing role model and she needs more appreciation.
Esmeralda – Hunchback of Notre Dame
Esmeralda was one of my favourite characters in a Disney movie and she is very underappreciated. She is a strong, feisty young woman who stood up to Frollo to defend Quasimodo when no one else would. Her main cause was to fight justice for her people who had been marginalized by Frollo and those under his command. She was declared a witch by Frollo for her beliefs and his perverted lust for her (Hellfire is still one of the best Disney villain songs of all time, in my opinion). Even when her life was on the line, Esmeralda refused to give into Frollo. She would risk her own life for the cause she fought for and had respect for herself as a woman not to give into the evil doings of this disgusting man to save herself. Moreover, she accepted Quasimodo for who he is, not by the way he looked. Why doesn't this woman get more attention by the public? She is a brilliant role model for young girls. Give her more love.
Veronica – Heathers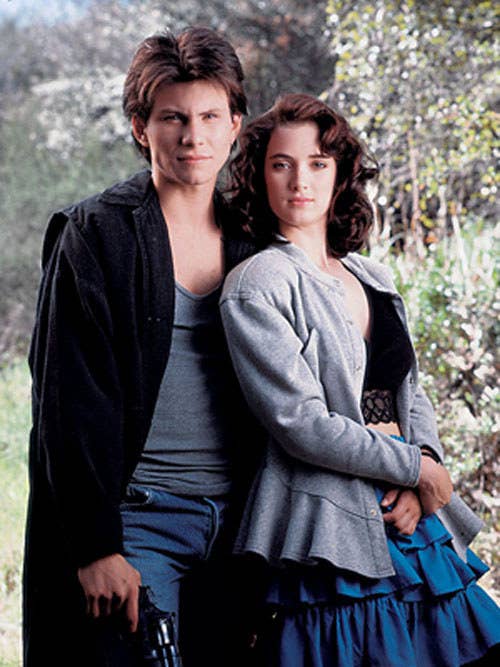 If you are new to my blog, you may not have heard me talk about Heathers. It's a great movie, go check it out. I posted a couple of poems on my blog that are based off this movie as well. Veronica is a great role model for young girls because of her ability to overcome the craziness that's happening in her life. She gets herself into a situation with a sociopathic boy named J.D and feels trapped the dark situation she is in. J.D becomes the extreme version of an abusive boyfriend and Veronica escapes his manipulative grasps. She proves time and time again, she is capable of facing any danger. Moreover, she argues with her friends, the Heathers all the time about their extreme bullying and fights with Heather Chandler quite a lot in the film because of it. She accepts all walks of life in her school whereas her friends and even her boyfriend, J.D ignore all and attempt to destroy everyone.
Belle – Beauty and the Beast
My original heroine. If I had to pick which Disney princess I relate to or who I am most like, it is Belle from Beauty and the Beast. I love this character so much for many different reasons. One is that she reads a lot which her town considers to be odd. The fact a woman could read a book and seem intelligent was so dangerous to them which shows how progressive of a character Belle was. Moreover, her attitude towards Beast throughout the film shows she was not just going to lay down and let him treat her horribly. As for the question of her love for Beast being a product of Stockholm Syndrome, I consider that to be so ridiculous. Belle never feels like a victim in the Beasts house. She is allowed go wherever she pleases and she argues with Beast all of the time. Also Emma Watson said something in an interview that was very interesting. Belle and beasts love or relationship could only begin after the moment he lets her go. She was still a captive in his domain so how could she love someone who wouldn't let her be free? So when he lets her go to be with her father, that's the moment when she truly fell in love with Beast. I love their relationship because it took time for them to fall in love. It wasn't love at first sight and she saw the beauty inside his monstrosity. And when Emma Watson portrayed Belle in the live action version, I thought it was a perfect match. She brought so much to Belle for a new generation  and I am happy that Belle will get to inspire more young women growing up.
Hope you enjoyed this post. Let me know if you have any other women you admired in films or literature that I didn't mention in the comments. Talk to you next time x